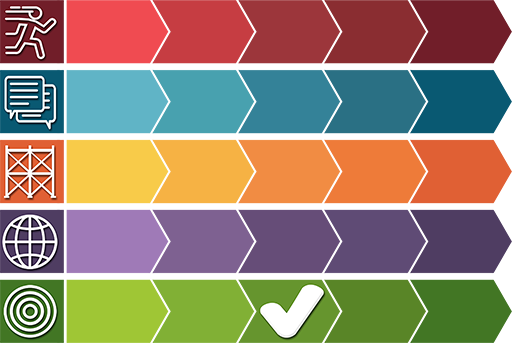 Goal-Directed Learning, Adaptation Level
Purposeful use of tools to plan and monitor; some student choice and exploration
Students. Students have opportunities to independently use technology tools to facilitate goal-setting, planning, monitoring, and evaluating specific activities. Students explore the use of the technology tools for these purposes.
Teacher. The teacher selects the technology tools and clearly integrates them into the lesson. The teacher facilitates students independent use of the technology tools to set goals, plan, monitor progress, and evaluate outcomes. For example, in a given project, the teacher may select a spreadsheet program that students use independently to plan and monitor progress. The teacher may provide guidance in breaking down tasks.
Setting. The setting includes access to technology tools (such as graphic organizers, calendars, spreadsheet software, and timeline software) for planning, monitoring progress, and evaluating outcomes.
Graphics representing the Goal-Directed Adaptation cell, the Goal-Directed TIM levels, the TIM, and many other related resources are available from the TIM Graphics page in the Resources section.