Menu
---
1. TIM Tools Admin Center
The Admin Center provides for management of the TIM Tools suite of applications.
Overview
Getting Started
Customization
Managing Members
Working with Data
---
2. TUPS
The Technology Uses and Perceptions Survey provides essential information for planning technology infrastructure and support and identifying the perceptions and PD needs of teachers.
---
3. TIM-O / TIM-LP / TIM-R
These three tools are for classroom observation, lesson plan review, and teacher reflection.
Overview
Preparation
TIM-O
TIM-R
TIM-LP
---
4. TIM-C
The TIM-C allows a coach and client to document the goals, activities, progress, and outcomes of a coaching cycle.
---
5. ARTI
The ARTI tool provides a framework for teachers to design and conduct their own action research projects.
---
6. Report Tool
The Report Tool allows a school or district to create TIM-LP, TIM-O, TIM-R, or TUPS reports.
---
7. Survey Tool
The Survey Tool allows a school or district to create internal or external surveys on new topics as needed.
---
Need help?
Have a question?
Email us at TIM@fcit.us anytime. We want to help you get the most out of your TIM Tools account!
TIM Tools 7.0 Administration Guide
Admin Center Dashboard
The Admin Center opens to a Dashboard screen. The Dashboard screen provides a brief summary of information pertaining to your site, including an overview of participation rates within each of the TIM Tools. Members who have school-level administrative rights will see the data just for their school. Those with zone-level rights will see the data for their zone. District administrators will see a summary of data for the entire district.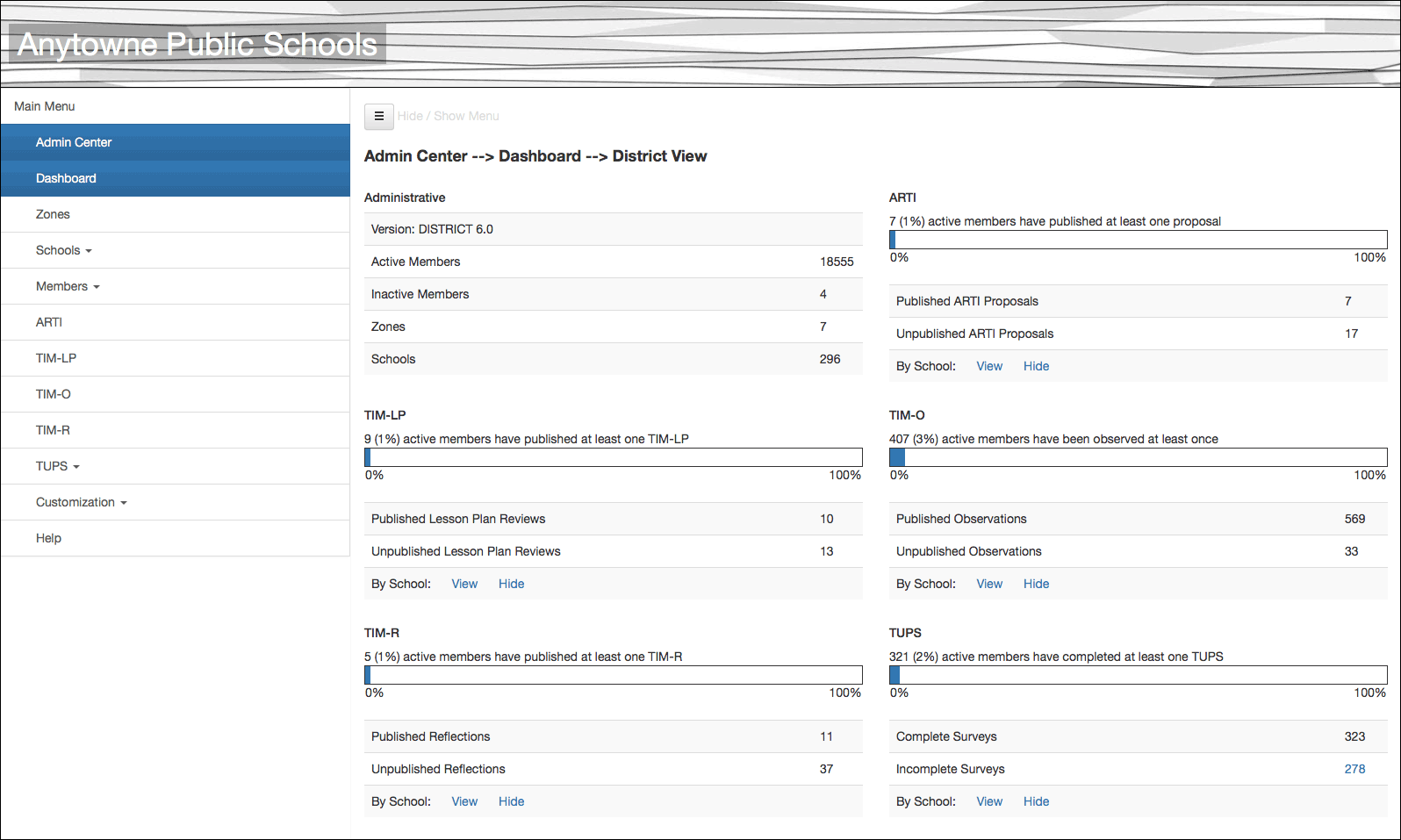 Figure 1. Admin Center Dashboard.
The Admin Panel at the top left displays the TIM Tools version number as well as a summary of how many members, zones, and schools have been entered into the system. Note that the panel also indicates the number of Inactive Members. For data integrity purposes in reporting, members are not deleted from the system. Instead, if someone leaves the school or district, that person's status is changed to "inactive."
There is a separate panel for each of the following: ARTI, TIM-LP, TIM-O, TIM-R, and TUPS. The default view displays a summary of usage of each tool. Members with district- or zone-level rights will see View and Hide options to display the data broken out by school.