Menu
---
1. TIM Tools Admin Center
The Admin Center provides for management of the TIM Tools suite of applications.
Overview
Getting Started
Customization
Managing Members
Working with Data
---
2. TUPS
The Technology Uses and Perceptions Survey provides essential information for planning technology infrastructure and support and identifying the perceptions and PD needs of teachers.
---
3. TIM-O / TIM-LP / TIM-R
These three tools are for classroom observation, lesson plan review, and teacher reflection.
Overview
Preparation
TIM-O
TIM-R
TIM-LP
---
4. TIM-C
The TIM-C allows a coach and client to document the goals, activities, progress, and outcomes of a coaching cycle.
---
5. ARTI
The ARTI tool provides a framework for teachers to design and conduct their own action research projects.
---
6. Report Tool
The Report Tool allows a school or district to create TIM-LP, TIM-O, TIM-R, or TUPS reports.
---
7. Survey Tool
The Survey Tool allows a school or district to create internal or external surveys on new topics as needed.
---
Need help?
Have a question?
Email us at TIM@fcit.us anytime. We want to help you get the most out of your TIM Tools account!
TIM Tools 7.0 Administration Guide
Viewing Survey Results
To view the results of any survey, go to Survey Tool > Survey Maker > Internal Survey Builder or Public Survey Builder and scroll until you find the name of the survey you are interested in. Click the Spreadsheet button for that survey and an Excel file will be prepared and downloaded to you. If there are many results to include, this may take a moment.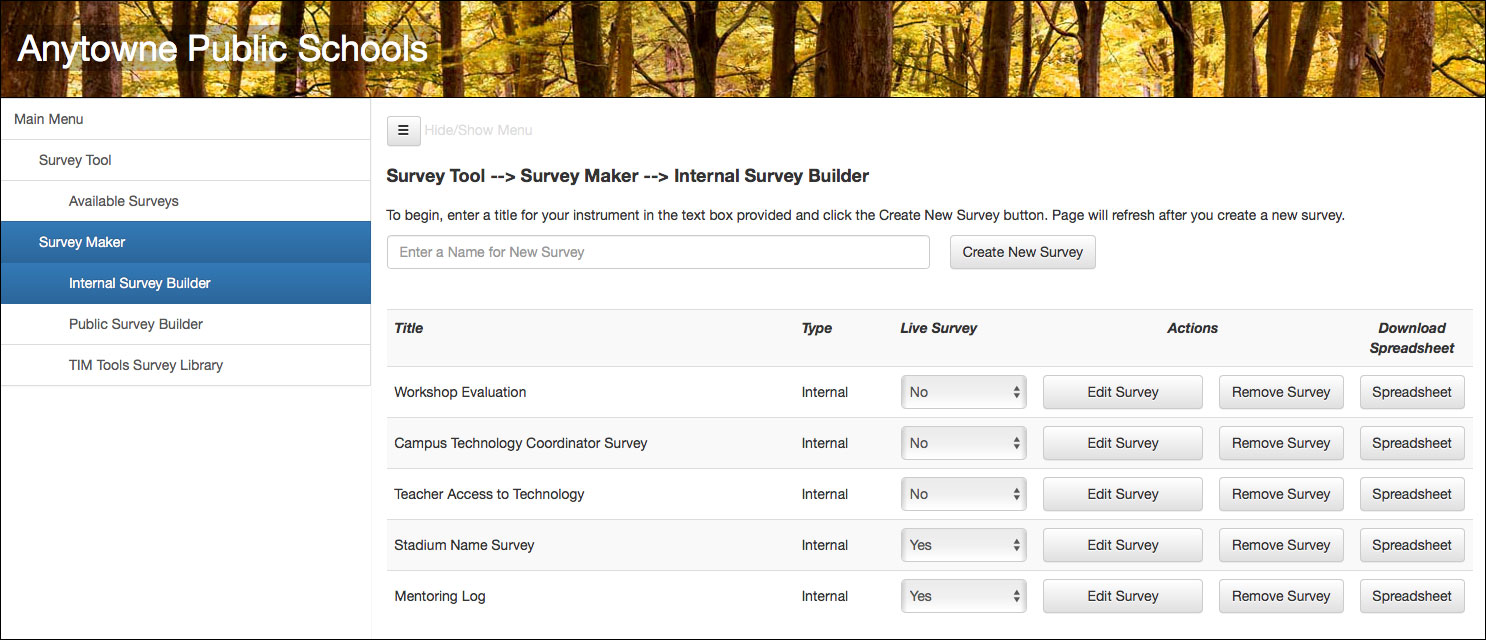 Figure1. Each survey in the surveys list includes a Spreadsheet button that initiates a download of results.
When the file downloads, open it in a spreadsheet application. The columns will be labeled. You'll find the date and time of each survey submission. If the survey was taken by a TIM Tools member, the member ID, first and last name, and school assignment (if any) will be recorded. If the response came from the general public, you'll be able to use the IP address column to determine if perhaps someone is submitting multiple responses to skew results. For your convenience, the question will also be included before each answer. If a respondent selected one than one response in a multiple response item, those responses will be separated by commas.


Figure 2. Identification information from a survey download spreadsheet.